'Rent-tech' model gives retailers the ability to outsource innovation
Today sees the launch of the annual Awin Report which has for 2021, taken the form of a completely digitized version including video and audio interviews with key stakeholders, partners and innovative solutions.
On the topic of outsourcing innovation, global commercial director James Boden spoke at length with Awin's global head of strategic partnerships, Paul Stewart, to discuss the growing trend of tech companies that offer a set of onsite conversion improvements for a retailer's website.
The affiliate channel is known for being a source of traffic generation for retailers, however this shift towards conversion technologies that offer better converting existing traffic has provided new opportunities for affiliate marketers. The choice to develop in-house vs outsourcing in any walk of digital life is of constant discussion, however thanks to intent.ly's integration with Awin on a mastertag level, the ability to quickly and easily test outsourced solutions to see if they can truly generate tangible and incremental benefits is now an instantaneous reality.
Historically, that has primarily been in the form of providing qualified traffic. But increasingly this has extended to a collection of more technical partners that can help businesses optimize their on-site capabilities or provide analytical functions they cannot build or create themselves.

Networks like Awin's have developed universal solutions that can house these partners so a brand can quickly insert them into its own websites with a single click and assess their impact.

excerpt from the 'Affiliate's 'rent-tech' model will allow businesses to outsource digital innovation' section of the Awin 2021 Report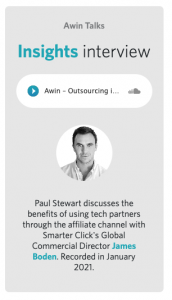 Here's a link to the Awin report, and specifically to the outsourcing innovation conversation with intent.ly's James Boden.
Find out more about intent.ly's product suite and how you can quickly reap the benefits of incremental conversion technology.