Smarter Click has been delivering successful conversion optimisation campaigns for retailers since its inception in 2013, growing across 20 territories and building up from a team of three to over 30 as 2020 finally draws to a close.
This unprecedented year has given us the chance to reflect on the market landscape and has enabled us to get to know our client base further, drilling deeper into KPIs and ensuring that we're continuing to drive valuable, warranted and incremental conversions for otherwise lost user sessions.
What became clear to us during this year is that fundamental to every campaign we've run lies an element of 'intent'. So much so that we've launched a new brand under the Smarter Click umbrella to reflect the intrinsic actions that underpin our operations.      
What is intent?

The word 'intention' was derived in the late 14th century to describe a "purpose, design, aim or object". 
In Middle English, however, 'intention' is described as "emotion, feelings; heart, mind, mental faculties and understanding". Combine the two origins of the word and you have the groundings for what intent.ly is built upon; purpose and emotion.
Whether you've noticed it before or whether we're about to enlighten you with the prospect, 'intent' has prime placement in a significant amount of online user journeys. Apart from the occasions where you get stuck down a YouTube or TikTok hole (we know this all too well here at intent.ly!), seldom are you browsing online without intention being present.
Through analysing millions of user sessions, we are able to segment and piece together the steps taken that conclude with an outcome – whether that's a purchase, a window shop, a newsletter sign up, comparing prices, comparing products, a non-event and many more outcomes.
Whilst we all like to claim we are individuals and react of our own accords for the majority of the time, the reality is that in many instances we are, actually, predictably irrational. There's a great book on the subject if you want to find out more about our not-so-irrational habits, but fundamentally this predictable irrationality allows us as a business to understand user sessions, and take action accordingly.
How do we derive intent?
With proprietary technology that has been built over our eight years of existence, we have become experts in identifying different types of intent sessions, allowing us to take appropriate actions and intervene, reducing bounce rates and nudging these sessions instead towards our client's KPI's. Below are just a few examples of how intent.ly identifies intent-driven journeys.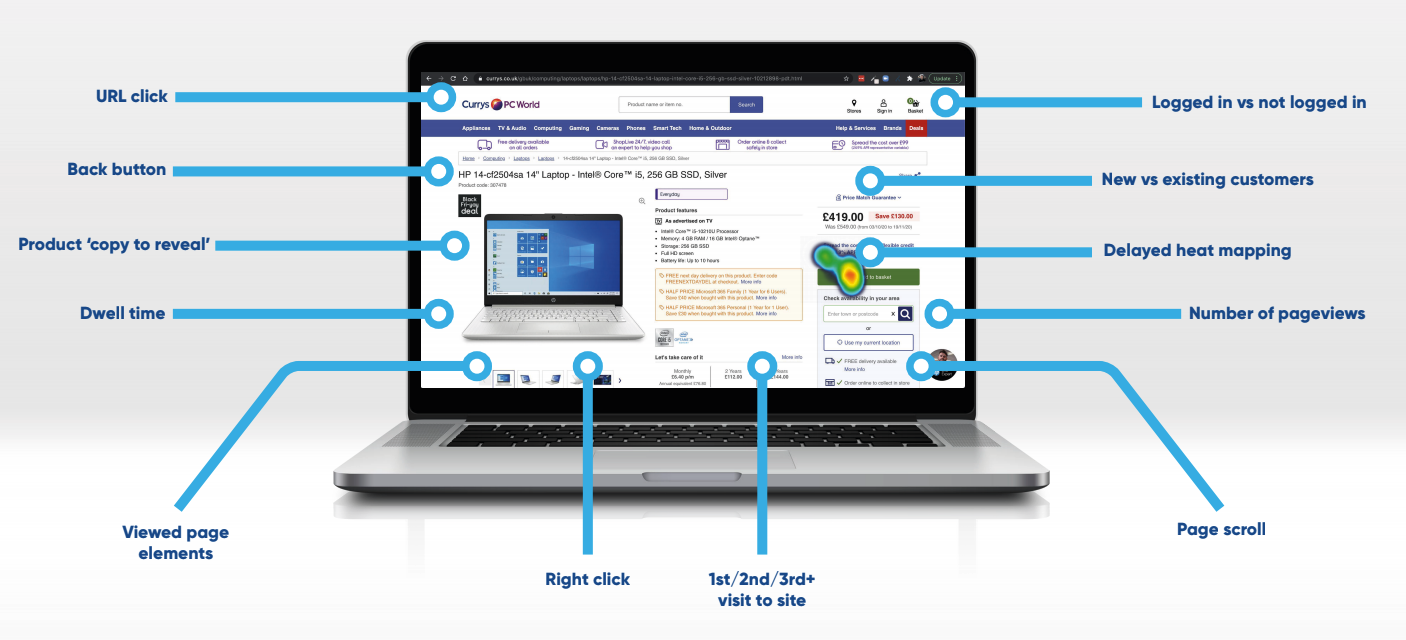 Onsite user behaviour
Quick scrolling
Mouse movement
Heat mapping
Dwell time
Context
Where they came from
What they are looking at
What they are searching for (keyword intent)
Content
What they engage with
What topics they're viewing
The benefits of acting on intent
In its most simplest form, by acting on derived intent you are able to provide an improved user experience by giving that particular journey its desired outcome in a much more streamlined fashion. 
One of the biggest challenges we face in a competitive retail environment is the abundance of choice that's available to consumers. Securing the sale remains the number one priority and it's becoming increasingly more competitive to do just that. 
Exit intent – users showing signs of leaving a retailer's website – is a metric that we have seen increase across the board over the past few years. 
By being able to pre-empt exit intent, it allows us to keep a consumer engaged with their particular purchase journey rather than heading back to search engines, to competitors, to price comparison engines and onwards to many other possible conversion killers. 
Our own stats tell us that our exit intent solutions can increase engagement by 19% and improve conversion rates by an average of 23%.
How are your bounce rates looking?
If you're finding that your bounce rates are creeping up then it might just be the right time to get in touch with us at intent.ly.