Our analytics suite provides visibility throughout the user journey. Control promotions, coupon usage and increase conversions intelligently
intent.ly Codes is then able to show the traffic sources for each promotional code, helping you identify those publishers sending traffic from invalid or fake codes, along with the revenue you are losing in paying commission for them.
From there, the platform gives you the ability to fix invalid codes and dramatically increase conversion rates.
Offsite   Award winning For retailers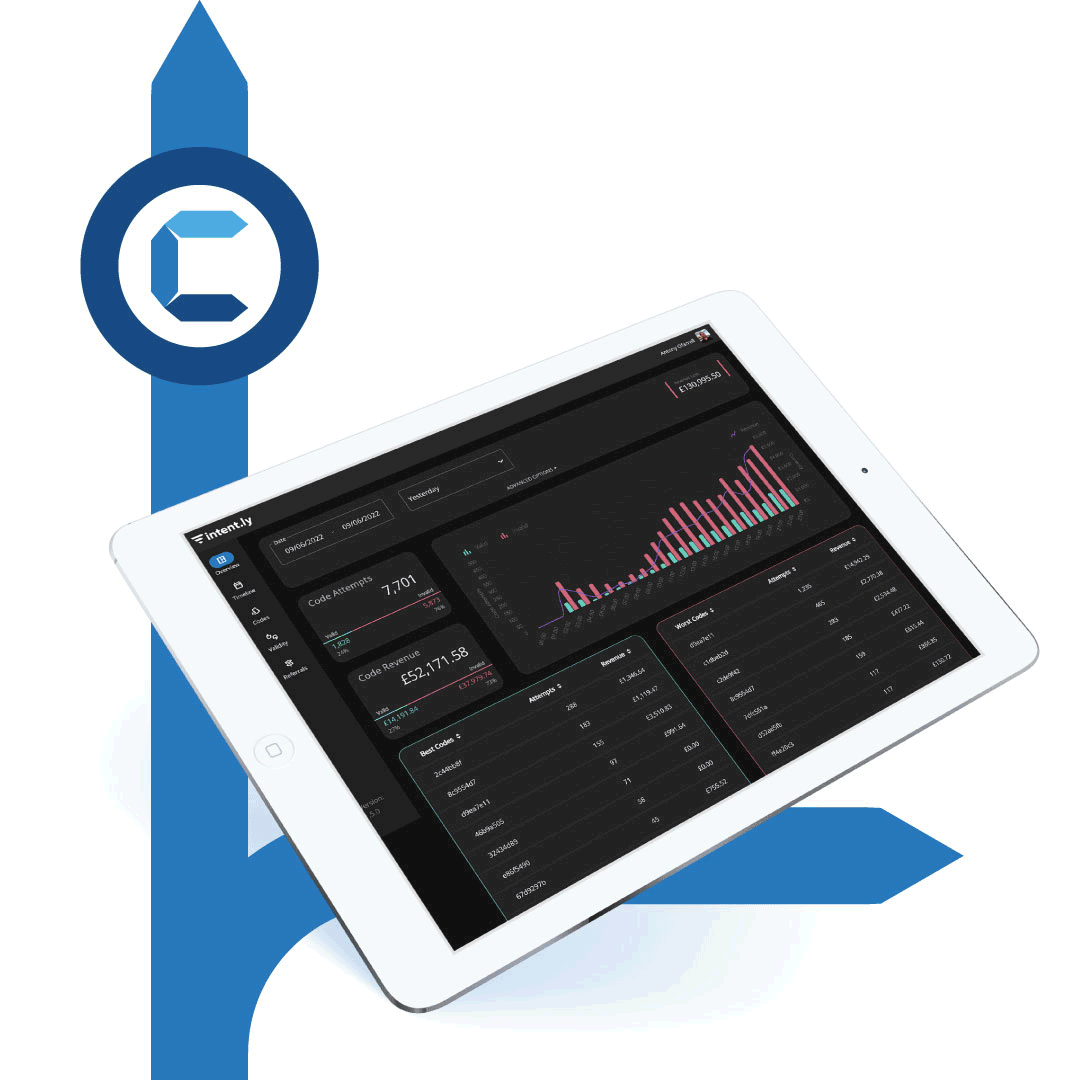 Total transparency and control
An insights platform specifically engineered for the coupon market.
Our technology gives retailers complete oversight and therefore control over their entire coupon ecosystem. All within a singular platform.
We're changing the world of coupon codes for the better. We're on a mission to put an end to poor coupons practice and give retailers total transparency over their code usage.
How it works
Identify – View all attempted, valid and invalid codes used on your website, as well as their traffic sources.
Evaluate – Understand sources of invalid traffic and fake code usage across your coupons ecosystem
Fix – Use the insights to fix these broken journeys to dramatically increase your conversion rate, whilst creating better experiences for your customers.
What we've unearthed*
30%

of the 470,000 coupon code attempts in the past 30 days were

invalid
Over $4.5m in revenue

driven from coupon code traffic

Average conversion rate of a working code is 65% compared to

10% of invalid codes

42% of codes used through an affiliate network come from top three publishers

$3.5m+ in incremental revenue available if the invalid codes were made valid
*2019 codes case study
Take control of your codes
Over $25k was paid in commissions to affiliates with invalid codes based on our 2019 codes case study
Take control of your entire coupon strategy by utilising intent.ly Codes
Contact us to find out more
There are no such thing as bad ideas
Here at intent.ly we thrive on innovation. If there is a feature you would like to see on our platform then please get in touch using the form below.
Book a demo
Get in touch and one of our experts will organise a demo of how intent.ly can help you